A item called the Propeller, which would allow you to make planes.
Can be powered by a special engine that's literally just a very primitive single pistol engine powered by gunpowder and flammable stuff, such as wood. Once the piston comes back, it pushes the gunpowder into a fire with a wire screen preventing whatever's burning from moving around and messing everything up, and the explosion pushes the piston back and so on. It explodes once the durability gets really, really low, killing everyone in the plane. It also explodes if it crashes.
To start it, you put in the wood or whatever you want to use that burns that isn't a liquid, then you throw the gunpowder in, and start the fire with a torch, close the engine, move the propeller a little to get the piston to move the gunpowder to the fire, and the engine's started. You would control the plane by 1 lever to control altitude that has 3 positions: Level, Down, and Up. The same with another lever to turn the plane, which has 3 positions: Left, Straight, and Right.
To make wheels for landing gear, you make them out materials like metal or obsidian, but on a regular crafting table. It would look like this, except filled in completely, smaller, and with the color of the material it was made in.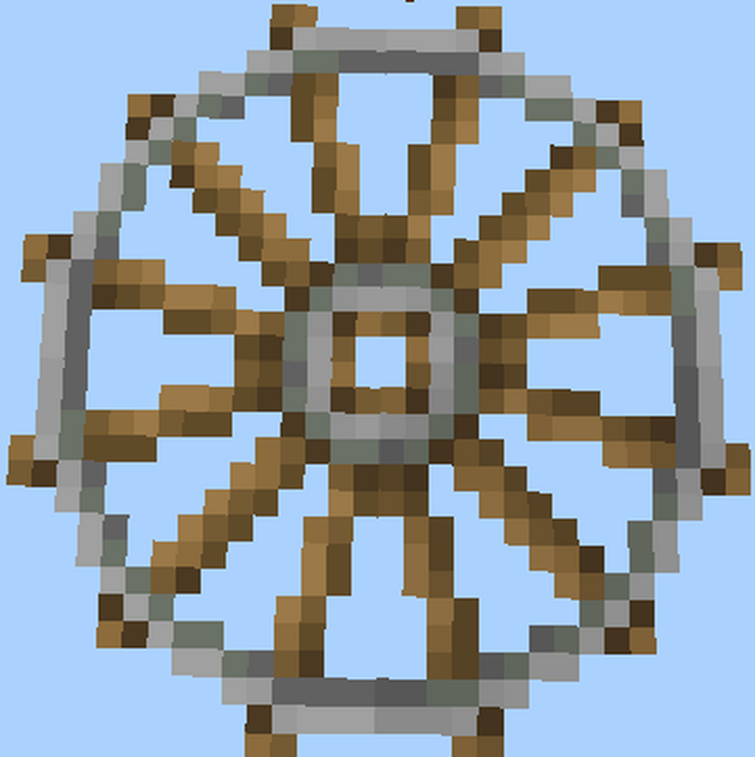 A seat to sit in is made with a staircase and wood planks. Seatbelts so you don't fall out can be added with some leather.
You can craft the engine with a piston, a furnace, and a lot of gunmetal. The propeller is made out of metal or wood, with a piece of wood or ingot of metal for each prop blade. Different amounts of prop blades have different effects, look up 3 blade prop vs 4 blade prop.
Kind of forgotten recipes, because very few people know about it. They're only featured in a old book and very few copies of that book still exist during the time period where 8 Bit Warrior and 8 Bit Kitten takes place.